Unfinished bolts or black bolts or C Grade bolts (IS: 1363-1992)-bearing type connections
Turned bolts – Expensive & used in Spl. jobs
Precision (A-Grade)& Semi-precision (B-Grade) bolts (IS: 1364-1992) -They are used when no slippage is permitted
Ribbed bolts (Rarely used in ordinary steel structures)
High strength bolts (IS: 3757-1985 and IS:4000 – 1992)-Friction type connections
High-Strength Friction Grip (HSFG) Bolts
Special techniques are used for tightening the nuts to induce a specified initial tension in the bolt (called the proof-load), which causes sufficient friction between the faying faces.
Such bolts are called High-Strength Friction Grip bolts (HSFG).
Due to this friction, the slip in the joint is eliminated; joints with HSFG bolts are called non-slip connections or friction type connections
Offering you a complete choice of products which include Foundation Bolt, L Type Foundation Bolts, SS Foundation Bolt, I Type Foundation Bolt, J Type Foundation Bolt and Stiffener Plate Foundation Bolt.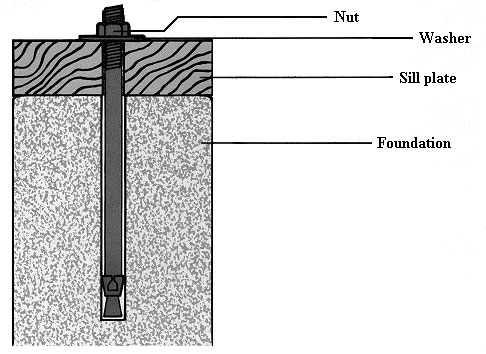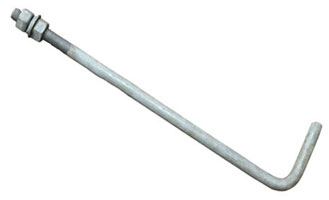 Approx Price :
 Rs 42 / Kilogram(s)
Our company is actively instrumental in manufacturing and trading a wide assortment of L Type Foundation Bolts that is available with us in various stipulations as per the needs of the clients. These bolts are designed & manufactured using premium quality metal alloy and advanced techniques under the supervision of skilled professionals.
Features:
Finely finished
Dimensionally accurate
Abrasion resistance
Approx Price : Rs 60 / Kg.
We are manufactured special bolt like as foundation bolt, 'U' bolt, 'J' bolt, 'EYE' bolt, 'T' bolt, Anchor bolt, Hex head bolt, Square head bolt. We are manufactured fasteners for various industry. Like as cement plant, marine industry, petrochemical plant, sugar plant, construction industry, railway industry etc.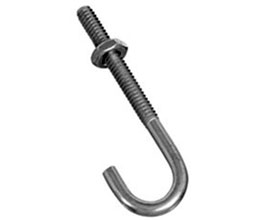 Approx Price : Rs 60 / Kilogram
Our company is passionately engaged in manufacturing, trading and supplying a wide array of J Type Foundation Bolt that is available in various specifications as per the needs of the clients.
DANG TYPE FOUNDATION BOLT
We are offering our client Foundation Bolt. Our expert engineers and designers design mould clamp using quality factor inputs and optimum methods. We manufacture mould clamp in various models for usage with different support bolts and bases.We provide various models of t-bolt based on thread size and total length.
WE ARE AUTHORIZED DEALER
LANDMARK
BRK INDUSTRIES
VIZAG STEEL
SAIL
ADHUNIK STEEL
BORON STEEL
XPS (XTRA PRESCISION SCREWS)